New Currency Introduced to Replace KSh
Newly approved Central Bank of Kenya chair now wants Kenya to abandon the use of Kshs and accommodate a new currency according to the reports shared by NTV Business Editor Julians Amboko.
Andrew Musangi who was appointed by President William Ruto as the new CBK Chair before he was approved by the parliament today has now come out to say that Kenya should abandon the use of Kshs for a new East African Community Currency.
Speaking before joint National Assembly Finance and Planning Committee and Senate's Budget Committee, the new CBK Chair is reported to have said that the adoption of a common currency is well overdue for EAC states while noting that it will promote a stronger and larger market by eliminating currency risks, promoting free trade and flow of goods and services and eliminating conversion costs in trad.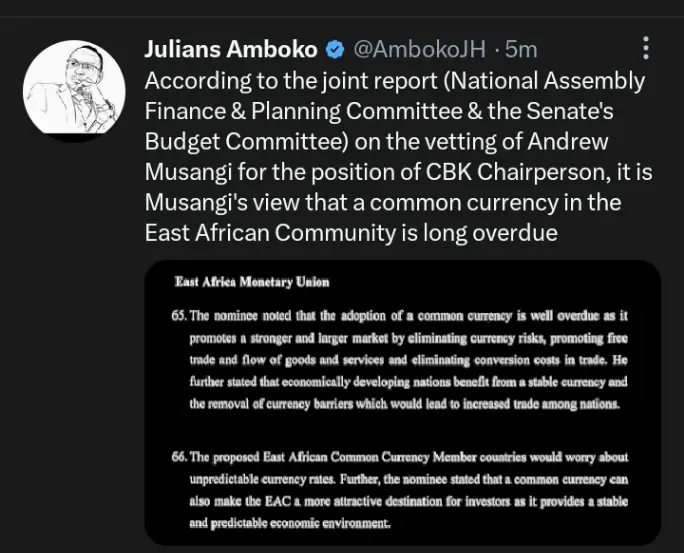 It is reported that the new CBK Chair stated that economically developing nations benefit from a stable currency and the removal of currency barriers which would lead to increased trade among nations.
Musangi who is also the son-in-law to late Business mogul Chris Kirubi says that adoption of similar currency by EAC states will make the countries more attractive destination for investors as it provides a stable and predictable economic environment.
Comments