EPRA Makes Major Announcement on Fuel Prices
Days after releasing fuel prices, energy and petroleum regulatory authority on 17th August evening resurfaced online with a major clarification.
Speaking via their official twitter handle, The authority maintained that the latest fuel prices was made effective with the use of a stabilization component.
According to its statement, stabilization component doesn't require government's funding as it is self funding and therefore whatever media is reporting is wrong.
"On 14th August 2023, @EPRA_Ke published the maximum pump prices for the 15thAugust -14th September 2023 period. A stabilization component was factored in the review pursuant to Government policy and the Petroleum Development Levy Order, 2020 (PDL Order, 2020)", the report intimates.
"A stabilization mechanism establishes a fund aimed at cushioning consumers during periods of high petroleum products prices. The stabilization mechanism is self-funding and does not require Ex-chequer/Government support", they added.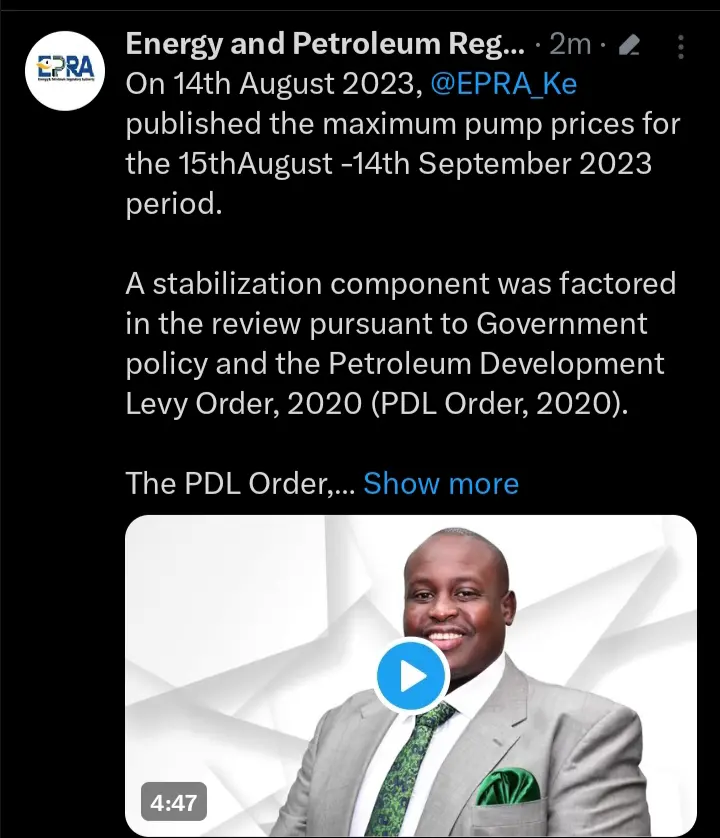 Comments