Moses Kuria in Trouble After Issuing 4 Shocking Response to Uhuru
Public service docket cabinet secretary Mosea Kuria on 19th November relayed a bold message to Uhuru Kenyatta after what Mr Kenyatta said about Ruto's government.
However in response, kenyans ganged up against CS Kuria. Reacting via their official twitter handles, they expressed their views via their official twitter handles as follows;
Fbo: If Uhuru Kenyatta has some case to answer, you guys are in power, why can't you call him to answer. Kenyans are tired of KK beating around the bush instead of solving problems affecting Kenyans. Today a kenyan is hungrier.
Amima: Aki watu wazima wanaendelezwa na uongo hivi? Lol. Do you know you can lie and lie and eventually you have nothing to lie about? You will cry Uhuru till 2027. That's what we want cry and whine and cry you will tire.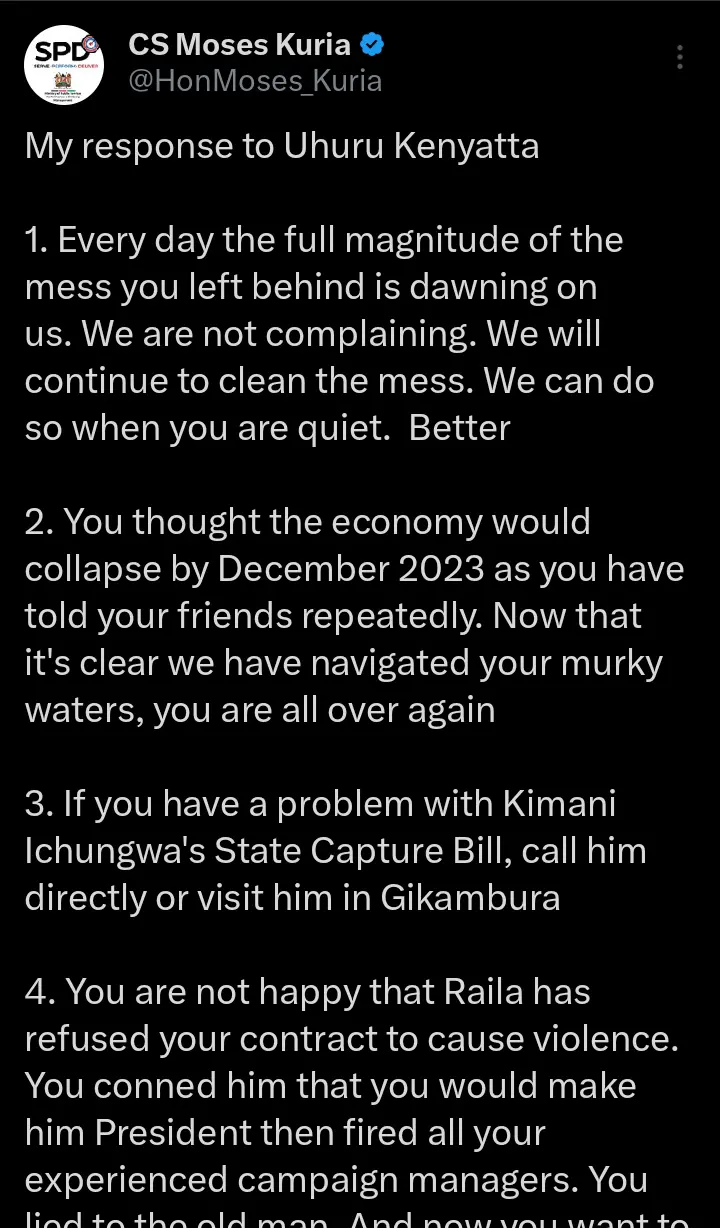 Kawter: What is the problem in Uhuru being in Azimio? Why would you shiver down the spine, I thought chebukati just got awarded for honoring Kenyans democracy? You claim you won, you say raila and Uhuru are not your match, yet when they sneeze all of u including the Java president shiver.
Chaguas: There are a couple of irony with Mr Kurias statement, he claims that the economy is doing well & has not collapsed, which is half true half wrong. How does the economy collapse & what are points? Companies collapsing, delay workers salaries & loss of value of local currency etc.
Maina: H.E. Uhuru was a very good leader; the best that the Republic has ever produced. Apart from strong leadership, charm, boldness, and unparalleled infrastructure development, he tripled our revenue collection from KES.707.36 Billion in FY2011/12 to KES. 2.031 Trillion in FY2021/22.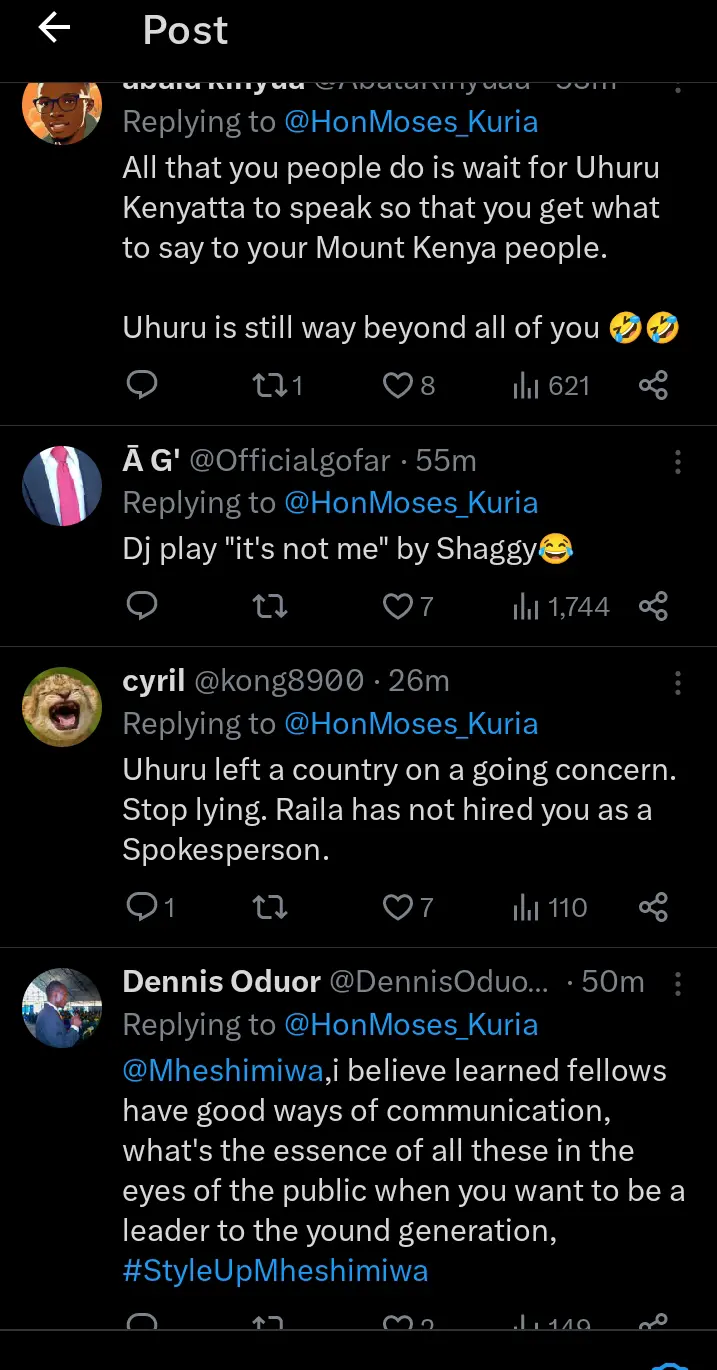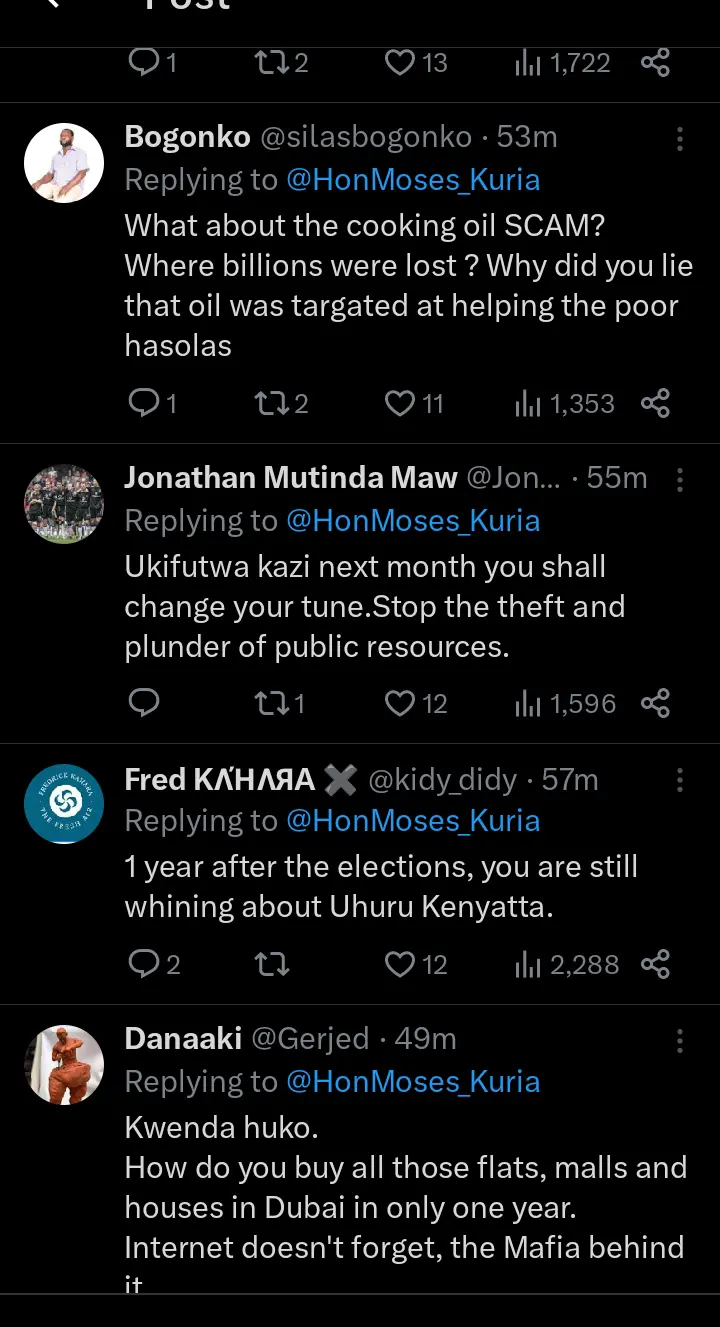 Comments