REFUGEES DUMPED AT NYAYO STADIUM
Trans Nzoia county governor George Natembeya has said that his county is out of facilities and equipment required to accommodate the fast rising number of refugees in his county.
Speaking on Friday the governor said that everyday new refugees come in and he is having trouble taking care of them. The refugees come from Congo, Rwanda Burundi and Uganda according to the statement given by the governor.
He asked the regional commissioner to facilitate how the refugees will be taken to Kakuma where they will be taken care of. He however warned that if they are not taken care of he will be forced to look for lorries and dump them to Nyayo stadium.
"Hatuna facility za kuhost refugees ama nitafute lori niwamwage Nyayo stadium." Governor Natembeya said.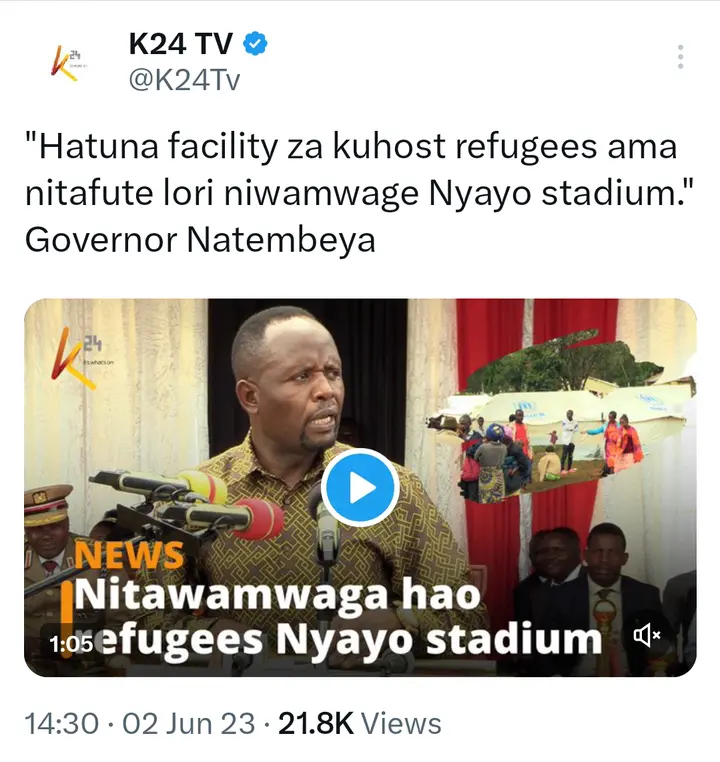 His remarks have however attracted a lot of criticism from Kenyans. Kenyans have said that Natembeya's remarks were harsh and he should treat the refugees with respect as they are also human. They asked him to seek the help of the National government to help the refugees.
Comments