Is this even allowed? Kenyans now very surprised. Siaya county deputy governor William Oduor has declared that he will not resign after being pressured to resign after falling out with his boss James Orengo.
He has told off those against his leadership noting that he was elected by the people and it is only his electorates who can decide if he will go home or not.
"I will not be intimidated by some MPs and MCAs who are threatening me and asking me to resign. These are the same people frustrating my efforts to fight corruption in the county executive," Oduol said.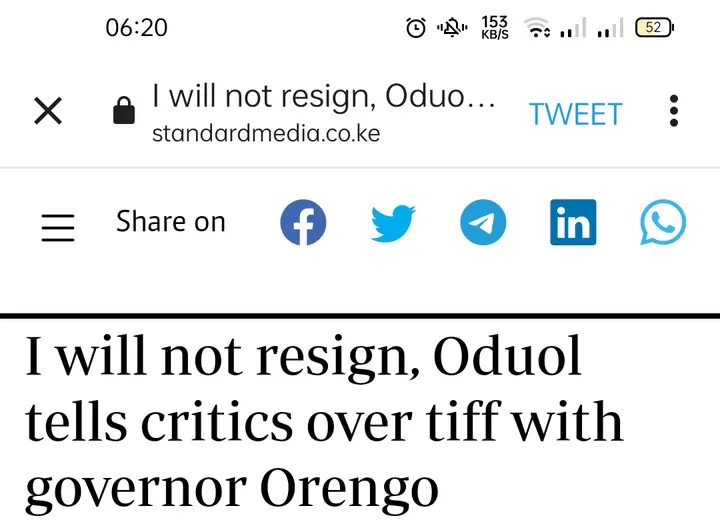 Detractors of Oduol have demanded his resignation, citing disagreements over the management of the county government by the governor.
"These individuals who are asking me to resign are the same people who are frustrating my efforts to combat corruption within the county executive. I was elected on a joint ticket, and I will not back down just because a few selfish individuals do not have Siaya's best interests at heart," Oduol stated during an interview on a vernacular radio station.
Tensions escalated on Saturday during the funeral of the late Chairman of the Siaya County Public Service Board, Elijah Achoch, in Alego-Usonga. Rowdy youth disrupted the event, preventing Oduol from addressing the mourners.
Oduol later expressed his disappointment, suggesting that "goons" were hired to obstruct his participation in the funeral. He criticized Governor Orengo for failing to condemn the incident, stating that it was unfortunate and shameful.
Accusing the governor and his allies of prioritizing personal interests over the welfare of Siaya's residents, Oduol emphasized the need to avoid violence in the region, saying, "There is no need to shed blood in Siaya. It was not meant to be so."
Comments