ALL KENYANS TO PICK THEIR HUDUMA NAMBA BY THIS DATE
The Kenyan Government has today broken silence with an afternoon powerful message to all Kenyan citizens on the highly coveted Huduma Number.
Addressing via the Ministry of Information Communication and Technology Cabinet Secretary Mr Eliud Owalo today the 16th to May 2023, the Kenyan Government has announced to that it will not carry forward with the Huduma Number project orchestrated by the former regime.
The Kenyan Government has notified the Kenyan citizens that it is working on revolutionizing a strategic digital identity rather than fostering the Huduma Number project which was brought into play by the Uhuru Kenyatta-led Jubilee administration.
The Kenyan Government has further informed the citizens that they will no longer be required to flash out they respective National Identity Cards at Government offices in order to access state services once the digital identity is rolled out.
Giving a glimpse of the pivotal reason as to why Kenyans will no longer be needed to produce national identity cards for acquisition of state services, the Kenyan Government articulated that Kenyans will be identified virtually in the new digital identity scheme.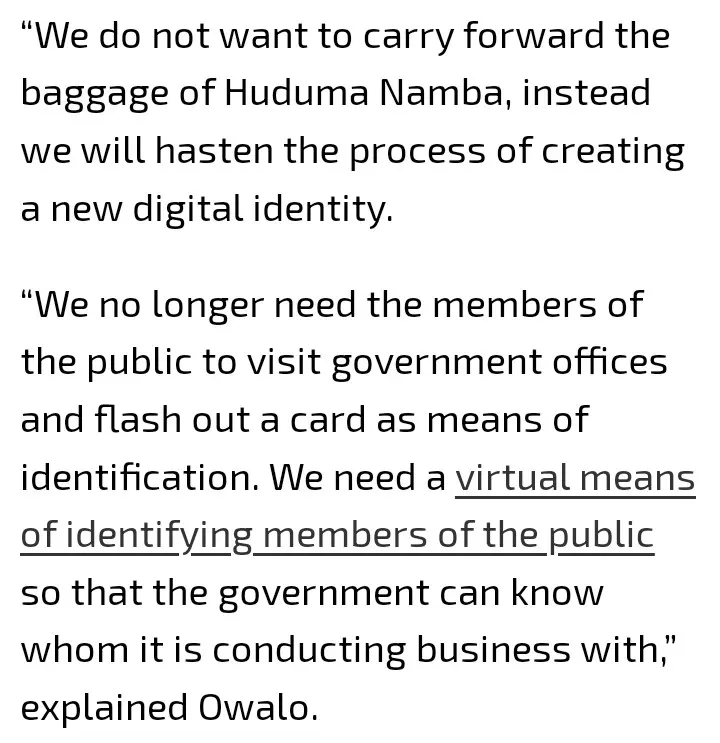 Comments