HUGE MONTHLY SALARIES & ALLOWANCES OF MCAs
Do you know the monthly salaries and the roles played by MCAs?
In Kenya, the County Assembly members' main responsibilities include representation, legislation, and supervision. Additionally, Section 9 of the County Governments Act specifies the function of the Members of the County Assembly (MCAs). 
On the other hand MCAs usually composes, submits, passes, and discusses bills and motions. They also looks for solutions on behalf of the public in a particular ward they represent.
Having leadership roles in the house, such as Whip or Leader of the Majority. They can also become a member of assembly committees if required to do so.
Those are some of the main functions of the MCAs and at the end of the month as usual, they always get paid.
One of the highest paid political groups in Kenya is the County Assembly (MCA). MCAs make considerably more money than physicians and attorneys do. MCAs receive benefits and allowances in addition to pay, which is why the majority of Kenyans have chosen to compete for this coveted job.
The Salaries and Remuneration Commission sets the pay for MCAs, Civil Servants, MPs, Senators, Teachers, and other Civil Servants.
An MCA's monthly remuneration, according to this commission, is Ksh 144,375. This includes a basic pay of Ksh 86,625, a Ksh 45,000 housing allowance, and a Ksh 12,750 market adjustment.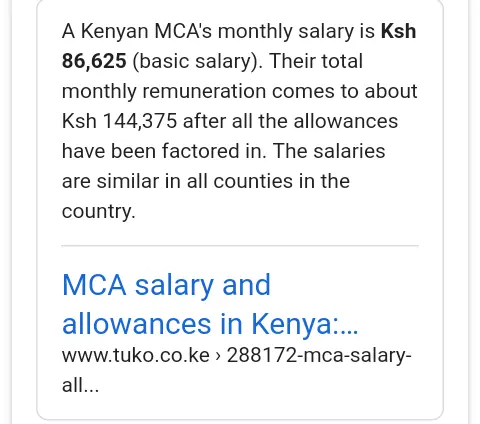 Story courtesy
Comments