NITATEMBEA UCHI, ANGRY PURITY NGIRICI SAYS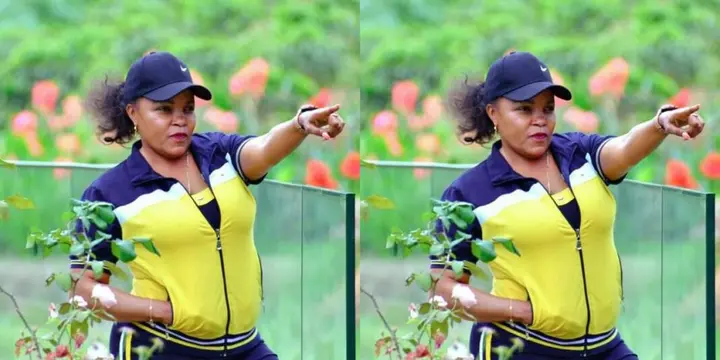 Kirinyaga woman Rep Purity wangui Ngirici has defended her yellow outfits resembling those of deputy president William Ruto's United Democratic Alliance (UDA) party.
Asked on Sunday by her supporter why she was still obsessed with the yellow colors, Purity Ngirici said that we should not discriminate against any colors because that thinking would only make citizens her included to walk naked.
"Ndegwa Mashinani let's not demonize colors otherwise nitatembea uchi my brother 😂😂 " Wrote Wangui Ngirici.
The Kirinyaga woman rep recently said that she wants nothing to do with deputy president William Ruto's United Democratic Alliance (UDA) and won't be backing him.
While speaking in Gichugu and Mwea constituencies, she made it clear that she will vie for the Kirinyaga gubernatorial position but not under William Ruto's UDA party.
According to her, she is confident of winning the Kirinyaga top seat in 2022 even as an independent candidate.
"Those who did not work and plan to hide behind political parties should know that it is not the party that will be elected. You are the one who we do not want because you are a thief and the people of Kirinyaga know that," she stated.
"In 2022, I will not stand with any political party. I will seek to be elected as a governor, as an individual, and I'm confident that I will sail through," continued Purity Ngirici.
With regards to why she decided to abandon Ruto's party, she clarified that "party owners" had on several occasions pushed her to withdraw from the race and back Ann Waiguru.
In the meantime, Purity Ngirici was sometimes in November 2021 forced to cut short her speech at Gichugu town after she was booed by hired goons.
DP Ruto had invited all the leaders to speak including governor Ann waiguru before finally welcoming Wangui Ngirici just after Waiguru finished addressing the roadside gathering
However, all was not well for the woman rep as the crowd not only shouted at her but also waved their hands in protest.
However, Sonko News learnt that Wangui Ngirici was a victim of paid goons who were determined to shout her down in a bid to drive a perception that Waiguru was still strong.
Apparently, that day's Kirinyaga contest between the two women was based on whose goons would carry the day and it seems Waiguru planned her hecklers well.
While at it, both governor Ann Waiguru and the woman rep maintained that they will back deputy president William Samoei Ruto's United Democratic Alliance (UDA) come rain come shine.
Fast-forward, Purity Ngirici has so far distanced herself from Ruto's presidency by urging the Kirinyaga electorate to vote for any presidential candidate they wish.
Story Courtesy
Comments