GOOD NEWS TO KENYANS AT LAST AS CRB MAKES THIS ANNOUNCEMENT.
The Metropol Credit Reference Bureau(CRB) is carrying out a pilot programme on how Banks can use credit rating as a reference point to offer loans without the need of collateral or a guarantor.
The Managing Director of Metropol Credit Reference Bureau(CRB) Sam Omukoko said the programme is being piloted in Nakuru county in conjunction with Equity Bank.
Addressing business community stakeholders in Kakamega during a meeting, Omukoko said in the product, if a business gets a credit rating determining its ability to service a loan or a facility of whatever nature, it becomes a reference point to get credit.
"It is not easy for businesses to access unsecured credit from banks but we have now worked out on a product which is concerned with credit rating as a measure for getting a loan," he said.
He said banks have started to give businesses credit on the basis of that credit rating programme.
In the pilot county of Nakuru, Omukoko said about 600 businesses have been given credit on the basis of credit rating.
He noted that Co-operative Bank of Kenya and Kenya Commercial Bank(KCB) have expressed interest to adopt the programme to extend loan facilities to businesses.
In the programme, Omukoko said KCB is ready to give unsecured credit of up to Sh 5 million by considering a business's credit rating score.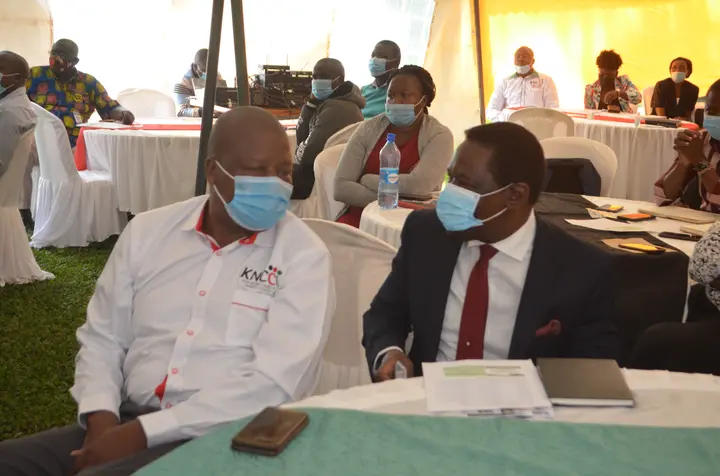 The MD told the business stakeholders to take advantage and obtain credit saying that lenders have started to relax the terms on which they are willing to give credit.
"The message I have for the business community in Kakamega is that opportunities for financing are now opening and lenders are beginning to relax the terms on which they are willing to give you credit," he pointed out.
He challenged the business community to improve management of their businesses to get a good or excellent credit rating score.
"We need to be able to ask ourselves how well are we running our businesses because Credit rating is an assessment of how you run your business and it measures the probability that your business is solvent or your business is insolvent. If your business is good you will not lack credit," he noted.
The MD said though those who default might decry due to the challenges they face when blacklisted, the Credit reference bureau has unlocked financial capabilities that have led to majority of Kenyans access loan facilities with ease.
An example is credit facilities like Fuliza, Safaricom's Mshwari and KCB M-PESA which rely on the credit rating of a customer to advance a certain amount of loans. All these facilities are available because the records that the individual holds at CRB is the one that facilitates them to access that credit.
"The Bureau is designed to host your credit history and that credit history is beginning to substitute collateral. For people in this country, we have now been able to completely liberate them to access credit in whatever form without having to be asked to provide collateral or guarantors to the banks," he pointed out.
The Laikipia county government has entered a partnership with KCB bank to launch a fund to extend credit facilities to Micro-Small and Medium Enterprises (MSMEs) on the basis of their credit rating.
The Launch which will take place on Sunday (today) in the presence of Metropol CRB will see more than 25000 businesses go through a moderate assessment for suitability to get credit if they meet the threshold of CRB rating.
"On Sunday, CRB will launch a fund between KCB and Laikipia County which is using credit rating to extend credit to the Micro-Small and Medium Enterprises businesses," he pointed out.
He said such programmes can easily be rolled out in other counties across the country for residents and business persons to benefit from.
"Kakamega County is still a virgin land as far as business is concerned, with a population of over two million people there are chances of exploiting existing opportunities to grow a robust business community that can serve our people with quality products and services that are affordable," he noted.
story courtesy
Comments